Publications
---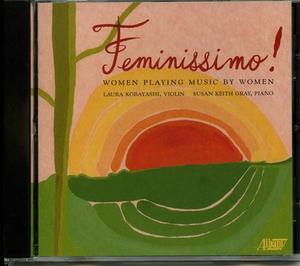 Feminissimo! Women playing music by women
Albany Records Troy 1081
"Kobayashi and Gray successfully span the variety of styles the program offers, playing the older, drawing-room pieces with glowing sound and moist sensibility and slashing sharply in the more modern ones. Recommended more widely than to those who simply wish to explore music written by women." Robert Maxham, Fanfare Magazine

"The selection of music covers a lot of ground. Spanning several continents, the CD includes works from a wide mix of heritages: Spanish, French, Norwegian, American, Polish, and Czech. One of the American pieces showcased, "The Deserted Garden," by Florence Beatrice Price (1887–1953), is worthy of special mention. Price was the first African-American woman composer to have a symphony performed by a major orchestra. Her piece is performed with considerable finesse as the musicians capture the melancholy beauty of Price's work particularly well.

One of the four premiere recordings, Elisenda Fábregas' Sonata No. 1 is also noteworthy. The complexity of this piece is a great catalyst for the duo. The collaboration, balance, and dynamic of the two musicians are a joy to hear—and a strong ending to this interesting collection of works." Heather Scott, STRINGS Magazine
This CD is the 2nd collection of works by women composers for violin and piano recorded by the Duo. The disc features four world premier recordings among the nine works presented.
The Duo chose a wide variety of styles and nationalities for both recordings. Feminissimo! is a mixture of romantic and contemporary character pieces and sonatas written by composers of Spanish, French, Norwegian, American, African-American, Polish, Czech and Jewish-American heritages. The four premiere recordings are works by living composers Elisenda Fábregas and Emma Lou Diemer and by early 20th century composers Anna Priscilla Risher and Signe Lund. Other works include those by Grażyna Bacewicz, Florence Price, Meira Warshauer, Pauline Viardot-Garcia and Vítezslava Kaprálová .
01 December 2008
---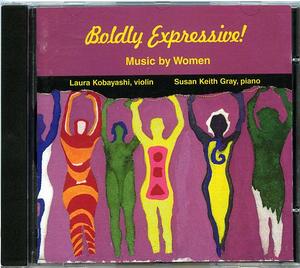 Boldly Expressive! Music by Women!
Albany Records Troy 372
"This collection of violin-and-piano music from the 19th and 20th centuries is an odd intersection between the "conservative" resurrection of tonality and the "progressive" programming of neglected women composers. Both are well served in these committed, vividly recorded performances." Sullivan, American Record Guide

"This CD, which appeared in 2000, presents four works recorded here for the first time. Kobayashi and Gray approached the compositions with confidence and energy. They present well-crafted, appealing performances.." Ricarda Dietz, VivaVoce (Frau and Musik Internationaler Arbeitskreis e.V.), Germany
"The cd 'Boldly Expressive' consists of works for violin and piano by six women composers. The 'Grande Sonate' by Marie Grandval alone makes this small anthology worthwhile: fascinating is the music written by this contemporary of Johannes Brahms! But the premiere recordings of Johanna Senfter and Serra Miyeun Hwang are quite impressive thanks to the beautiful performance by violinist Laura Kobayashi and pianist Susan Keith Gray." Patricia Werner Leanse, Radio Monalisa; Amsterdam, Netherlands


The Kobayashi / Gray Duo announces the release of its first compact disc, Boldly Expressive! Music by Women, on the Albany Records label. Violinist Laura Kobayashi and pianist Susan Keith Gray play works by six women composers of the nineteenth and twentieth centuries. This disc is a culmination of ten years of joint research and performances by the Duo of music for violin and piano by women composers.

The composers represented on this disc are Rebecca Clarke, Marie Grandval, Johanna Senfter, Serra Miyeun Hwang, Barbara Heller and Grazyna Bacewicz. Their works are stylistically distinct and combine to show tremendous depth over the one and a half centuries represented. Clarke is the most well known composer of the set; Midsummer Moon displays her impressionistic style. Grande Sonate, Op. 8 by Grandval was discovered by Kobayashi in a collection of women's music at The University of Michigan libraries. She found a significant nineteenth century piece and worked with Gray to edit a modern edition for Hildegard Publishing Company (1998). Two short works by Senfter are in post-romantic style. In 1994, the Duo commissioned fellow doctoral student Hwang to write Allegory. Lalai by Heller was composed in sympathy for Iranian women prisoners during the reign of the Shah. The fifth sonata of Bacewicz is representative of a significant volume of music by this twentieth century Polish violinist, pianist and composer. The first four works on the disc are premiere recordings.
21 April 2000
---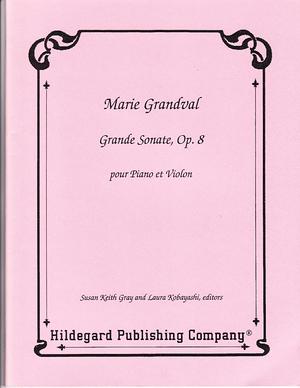 Grande Sonata, Op.8, in G minor, pour Violon et Piano
Hildegard Publishing Company 494-02580
The Kobayashi/Gray Duo created this modern edition of Grande Sonate, Op. 8 for Violin and Piano by Marie Grandval (1830-1907) through the Hildegard Publishing Company (Theodore Presser). It is based on a Lemoine edition of the sonata found in the Women Composers Collection in the University of Michigan Library in Ann Arbor, Michigan. The dates of neither the composition nor the Lemoine publication are known. A combination of Chopinesque piano virtuosity with operatic lyricism and drama characterizes this work. ​


Biography of Composer:
Marie Grandval (1830-1907) studied composition with Camille Saint-Saëns and piano with Chopin. In 1890, she received the prestigious Prix Chartier for chamber music from the Paris Conservatoire. Her instrumental chamber works include duos with piano for flute, violin, cello, English horn, oboe, and clarinet, and various trios. She composed songs, several successfully-premiered operas, choral works, symphonies and symphonic works, and many transcriptions of her own works for one piano, four-hands and two pianos. The Grande Sonate, Op. 8 for Violin and Piano seems to be an early work, according to the opus number, but the dates of neither the composition nor the publication are known.
02 February 1998